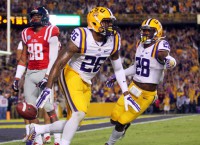 October 26 Alabama, Auburn and Oregon rounded out the top five. Notre Dame was No. 6. The rest of the top 10 were Michigan State FULL STORY
The Rebels are 7-0 with a defense that is one of the best in the country. Ole Miss capable of shutting down the run, could force LSU's Jennings to make plays, and so far, he has not shown the ability to pull that off.
Arizona Cardinals host the Philadelphia Eagles. Cardinal's Carson Palmer is back along is with its defense, which ranks No. 1 overall against the rush, allowing just 72.5 yards per game. It may be the Cardinals that do all the scoring on Sunday.
Lindy's
Picks To Click
College Football Overall 38.5%

NFL Overall 60%
See who on Lindy's team had the most accurate predictions for the Top 25 College Matchups and NFL picks. Our Top picks against the spread.

SEE MORE
Your #1 Ticket Source
Get the seats you want for all your favorite sports and championship events!

Sports Tickets from TicketCity
College Football Tickets
NFL Tickets
MLB Tickets
NBA Tickets